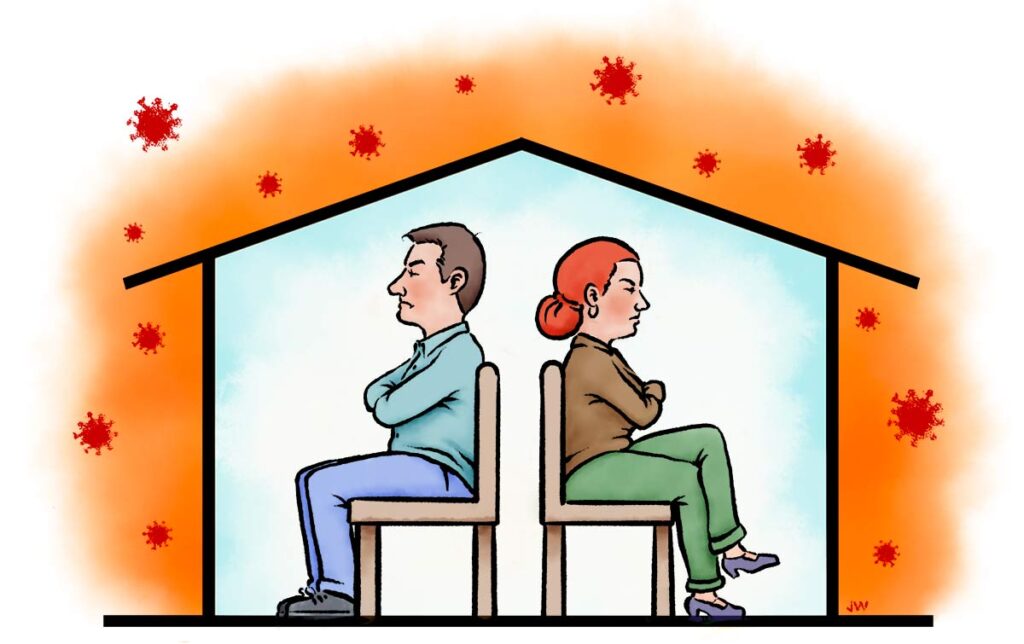 During this global outbreak of the coronavirus Covid19, everyone is forced to do "Social Distancing" in order to keep safe. But what about couples who were on the verge of a Separation prior to this pandemic? How can two people who do NOT want to be in the same room together get through this emotionally difficult time while stuck together indefinitely in the same house?
Of course, prior to Covid19 many divorcing couples were forced to live together during the divorce process for many reasons, ranging from making sure they do not compromise their entitlement to the marital residence, to not compromising their custody of the children until an agreement on these issues was reached.
Unfortunately, this coronavirus has forced many couples that were about to separate to hit the pause button and stay together for the time being. No one can safely search for new residences during this pandemic, and many people are feeling the immediate financial squeeze caused by loss of their jobs and shutdowns of non-essential businesses.
The stay-at-home orders in many states can make cohabitation seem unbearable as the divorcing parties have no reprieve from each other 24/7. Stay-at-home orders are enough to make even happy couples sick of each other, so imagine what it can do to divorcing couples!
For those couples planning on Separation and Divorce that are stuck together, I suggest the following tips:
Do not talk about the issues of your divorce. Under normal circumstances talking about your issues without the assistance of a mediator or lawyer is challenging. Discussing these issues in close quarters with no escape route will likely be explosive!

Take turns in the different rooms. Alternate the times that each of you are in the living room, home office, master bedroom, etc.

Take turns being responsible for the children. When one of you is tending to the children the other can go to another room.

Take turns getting out. When one of you is in your home the other one can take off for a walk.

Walk on eggshells. Avoid hot topics. Do your best to avoid conflict and do not take the bait for an argument.

Alternate times that each of you will prepare and eat meals.

Sleep in different rooms or alter your sleep schedules. One can stay up late binging TV and the other can be an early riser.
Although you may be frustrated by the delay in your separation that the coronavirus has caused, remind yourself that the circumstances are temporary and that you will be able to move forward soon.
As always, I suggest that you consider mediation and collaborative law as opposed to litigation when you are able to move forward. Mediation and collaborative law is less stressful and less expensive. Until then, your focus should be on avoiding conflict – and each other – during this difficult time.